David M. Verebelyi, MD
Chief of Laser Surgery
Dr. Verebelyi (pronounced "verbally") has been working with lasers since he received his undergraduate degree. He graduated with a Bachelors of Science and Minor in Psychology after only three and a half years from the Missouri School of Mines and Metallurgy. From there, he worked as a Biochemist at the Monsanto Cooperation for two years before entering medical school. After graduating from St. George's University School of Medicine Summa cum Laude, he went on to the University of Connecticut for residency training in Family Medicine.
He has been featured in several news stories and quoted in many national publications such as Medical Aesthetics. Dr. Verebelyi has also worked with multiple on-air personalities for shows such as TLC's "10 Years Younger", Bravo's "Shear Genius", Speed Network's "Pinks", and several of Denver's local media stars. He is one of only a handful of physicians who train doctors in the technique for Cynosure's SmartLipo procedure. Under his guidance, Colorado Skin Care has been designated a Center of Excellence for Lumenis (manufactures of the FX laser).
Dr. Verebelyi is also a fellow of the American Society for Laser Medicine and Surgery (ASLMS) and was one of the first doctors in the U.S. to perform procedures like SmartLipo, FX resurfacing, Titan, and Pearl Resurfacing. Because of his dedication for staying ahead of the latest procedures, Dr. Verebelyi is one of Denver's most talented laser surgeons due to his dedication to utilizing the most cutting edge technology. He is also an instructor for the ASLMS and writes many of the exam questions for the society. Dr. Verebelyi is committed to education. He has trained many of the top professionals in the field, and has written much of the laser course that most manufactures use when teaching new providers. He is onsite at Colorado Skin Care every day and personally performs many of the treatments.
Dr. Verebelyi is also verified on DoctorQA.com.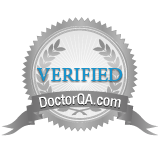 Memberships:
ASLMS: American Society for Laser Medicine and Surgery
American Board of Family Medicine
American College of Phlebology (ACP)
Mensa